Do You Want to Know How to Build Hotrods?
This is your one stop site to build hotrods!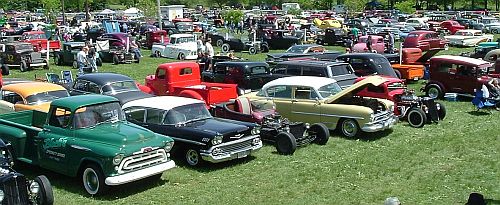 -June 8, '12- 'How to Remove Rust From Chrome the Cheap and Safe Way!' in the Tips and Tricks section! Need to remove rust from chrome but not sure how or what to use so you don't screw up the part? We show you how to do it safely and on the cheap!
-May 4, '12- Marty Childs from 'down under' is back with an update in the 'Reader's Rides' section! He did his take on some custom motor mounts he read about in the 'Hot Rod Engines' section. Check him out!
-April 21, '12- The Monster Notch! How to Lay Frame...' in the Suspension section! The Monster Notch.. Want to lay frame but don't know how to clearance your frame enough to do it? We show you how!
Are you a beginner and want to build hotrods but don't know where to start? Are you an expert but want to know something new?
Well, that's what we're here for!
Do you have questions?
LET US KNOW WHAT YOU WANT TO SEE! Write to us on the Contact Page!
Let's get started...
Don't know where to begin? Check out 'Hotrod Advice'.
Want to know how to do something? Expert or beginner, we're full of helpful step by step instructions.
Just start at the top of the category buttons on the left and work down the list! Brakes, suspension, wiring, engines, etc. Hey, learn something new...
Technical questions? Just get ahold of us on our 'Contact Page'. Let us know what you'ld like to see!
We're not here to judge you. To tell you what a hotrod is or isn't. What you should or shouldn't build. Lot's of other sites do that.
We're here to help you build YOUR hotrod!
We are getting stuff up every day, so tag us on your favorites list or put us as your home page! You'll want to keep up on what's new!
Take a look at our readers rides and see what they've done!
Want to avoid wasted money and hassle building your hotrod? Our pages on hotrod advice will tell you how.
Does Your suspension need work? We'll show you how to rebuild and modify it.
Will your hot rod brakes stop you? We'll show you how to rebuild and modify them.
Don't let your car burn down! We'll show you how to do hot rod wiring the right way.
Make your hot rod engines run right! How to install and modify them for your hotrod.
Questions about your drivetrain? We'll show you how to keep it working right.
Bodywork doesn't have to be that hard. We'll show you how.
Is your hot rod interior looking ratty? We'll show you how to modify your interior or start from scratch.
Want to get the inside scoop on the tips and tricks that nobody seems to teach? Well, then come on in!
This is How-To-Build-Hotrods privacy policy.
Contact us, we want to hear from you!